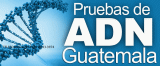 We are the most reliable and economical in DNA paternity testing option in Guatemala.
- We provide personalized and confidential counseling by specialist in gynecology and obstetrics registered with the College of Physicians and Surgeons of Guatemala.
- Reliable results: 99.99% certainty.
Our reference laboratory: DNA Diagnostic Center -DDC- is the most reliable and experienced genetics laboratory in the US, used by several
More...